Reviews
Wow to absolutely everything! Thank you Ramy and your whole team for making my dream wedding come true. Everyone at my wedding couldnt stop talking about how wonderful our venue was, from AMAZING food, to wonderful service and the absolutely gorgeous venue. My husband and I are so happy we decided to do our wedding here because nothing could beat it. It was ultimate perfection. Ramy, the owner is super supportive and absolutely superb. He was very easy to communicate with, understood our culture and customs and was able to make the best recommendations. Cant wait to celebrate more events with the Arlington Estate!!
Weddings are always a crazy time and The Arlington Estates made the experience that much more enjoyable. The beauty of the property (winter wonderland) and estate speaks for itself , the food quality is comparable to high end restaurants, but the thing that really makes them extraordinary is that they bring all these amazing elements together while achieving a high level of service like no other. From the initial meeting with Ramy, to the follow up and countless questions with Liana, and the rest of the team everything was perfect! Their attention to detail and organized process made the wedding come together seamlessly and helped to keep other vendors on track. They consistently went the extra mile and did everything in their power to ensure I was happy and my wedding vision was realized. The flexibility they have to accomplish this is truly amazing. I can honestly say as an organized bride with high standards they met and surpassed everything I had hoped for.I look forward to hosting other events at The Arlington Estates in the future, it will be a pleasure to once again work with their amazing team!I wanted to again take this opportunity to thank them for a wonderful experience I will never forget and cherish forever!
Great looking hall.Nice staff Very good chief and they are very accommodating. Show them pictures and describe the flavor you are looking for. Then Consider it done!The venue is very upscale. It's a new property. The landscape outside could be better but it's more than enough for a typical wedding ceremony.Price is decent too. Wait is not too long yet, I expect the wait time to be very long once the words gets out.Take a look and try their food.... It's beyond your expectations.
Katia Markovitch
May 2019
The Arlington Estate was absolutely incredible in helping us put together our dream wedding. Their attention to detail and their expertise in guiding us through the wedding planning process was amazing. The venue was set up beautifully with all of our decorations and flowers. We did not have to worry about anything the night of because everything was done by the itinerary we had created prior to the day. We had a number of guests with severe allergies and all of their meals came out perfect! We are so grateful to The Arlington Estate for making our dreams a reality and making our wedding day absolutely perfect!
Christine March
April 2019
I did my first wedding at The Arlington this month and was blown away. The building itself is beautiful and offers many options for your celebration. The surrounding grounds feature a lovely outdoor ceremony space and a pond with a dramatic fountain. I can only imagine how beautiful this outdoor space is when the gardens are at their peak. But a building can only take you so far. The secret to any successful event is the staff, and the staff at The Arlington is extraordinary. Ramy and his team bent over backwards to ensure my bride and groom (and their families) were happy. No detail is too small. Every single staff person worked diligently to ensure my bride and groom had the wedding celebration of their dreams. But let 's get to the most important detail: the food. I'm almost at a loss for words here; delicious seems inadequate. From the cocktail reception appetizers through the three course dinner to the late-night munchies, every bite was extraordinary. (And plentiful. Believe me, no one went home hungry.) The Arlington Estate is not for the budget-bride, but if you want an elegant, first-class celebration this might be the venue for you. Highly recommended.
The Arlington Estate has been mentioned inside these other vendor profiles:
Destinations Chauffeur Services
Simple Wedding DJ Toronto
Company Overview
Company Overview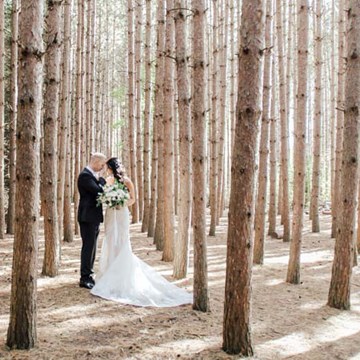 Kristi and Richard's Classic Green and White Wedding at the Arlington Estate
8/27/2019
Read more
Map
8934 Huntington Rd, Kleinburg,